Since the #MeToo online Campaign swept the internet, many women around the world, started to share their unspoken experiences, and talk about what they have been through, and according to a report published by the VOX Magazine on 21 Feb. 2018, 80% of the American women started to speak about sexual harassment and assault which they experienced during their lives and never talked about before.
In this article, we do not express an opinion, but we retrieve some scenes, which uncover the societal acceptance of sexual harassment and sexual assault within Hollywood film studio system, revealing that it is not a new thing but extends many decades.
The #MeToo campaign has emerged as a rallying cry for women all over the world, who have survived sexual assault and sexual harassment.
#MeToo: Staggering Number of Scandals
The hashtag #MeToo was created by the activist "Tarana Burke" in 1997, when she met a 13-year-old girl who had been sexually abused. The young girl was explaining her experience, and it left "Burke" speechless. That moment is where the #MeToo campaign was born, when she responded to her saying "me too". Later, she established a non-profit organization to help victims of sexual harassment and assault, and gave it a name of #MeToo.
In October 2017, Harvey Weinstein Scandal surfaced, after The New York Times and The New Yorker published reports detailing decades of alleged sexual harassment and assault by him; then, dozens of women have come forward with similar claims against him. The number of women who have accused "Weinstein" of sexual harassment and assaults has reached 84, and their accusations ranges from requests for massages to intimidating sexual advances to rape.
At that moment, #MeToo came back by the actress "Alyssa Milano" who tweeted asking women to use the hash tag #MeToo, to share their stories of sexual harassment and sexual assaults.
Shortly after that, #MeToo was seeing stars including Evan Rachel Wood, Sophia Bush, Rosario Dawson, Lady Gaga and more speaking up as survivors of sexual violence, along with thousands of people who aren't famous, from everywhere.
"My hope is people will get the idea of the magnitude, of just how many people have been affected by this in the world, in our lifetimes, in this country"  Milano told The Associated Press in a phone interview on 16 October 2017.
However, this cause went viral to articulate a global feminist problem, and to confirm the fact "All of us are survivors of a form of sexual assault".
Lots of actresses since then till the recent Emmy's and the BAFTAS in February 2018, engaged in the cause, issuing campaigns of #TimesUp as a mainstream of the same problem; all wearing full black dresses and brooches carrying the campaign name, as a sign of showing global solidarity with vulnerable women and empowering them to stand for their own rights during women's struggles to forge an independent career.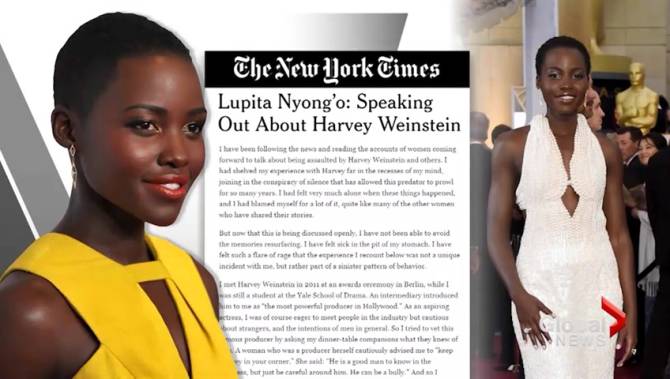 Hollywood: A Factory of toying with Women's Bodies
In fact, "#Metoo" campaign only shed the light on what is brewing in this industry since as old as the beginning of the Hollywood industry itself, but it was only acknowledged in October 2017.
"You Must Remember This" is a storytelling podcast about the secret and/or forgotten histories of Hollywood's first century, and if you listen to it, you will find out how common it was for directors to pick leading women based on how big their breasts were or if they wanted to sleep with them.
As well, Marilyn Monroe said in her memoir "My Story", that Hollywood is a place where they "will pay 50,000 dollars for a kiss, but only 50 cents for your soul", and she was pointing out to the Hollywood Studio system in 1950s.
The industry "toyed" with Monroe's body, articulating the figure of the hourglass body, sensational low tone voice, blonde looks, although she is originally brunette and lustful red lipstick, although it is intriguing to discover that "Arthur Miller", her husband wrote after her suicide about her addiction to antidepressants dependence during shooting, in a constant struggle to always maintain the glamour she had as a goddess of beauty, living in terror of losing the spotlights. If such a fact proves something, it would prove that Hollywood is a factory for gaining successes at the expense of women's bodies, and they woefully accept the deed.
Moreover, in December 2016, the director of the iconic film, "Last Tango in Paris" unveiled another shameful reality. Director Bernardo Bertolucci  stated that the scene of the rape in the film was not "mutually consensual", and that the actor "Marlon Brando" and the director "Bertolucci" filmed the rape scene without the actress "Maria Schneider" awareness that she will be raped in reality during the scene, leading her to cry true tears and in horror. The director claimed that he wanted the scene to be real, while indeed, the actress was 19 in age, and shy enough to not speak up for herself in 1972, and she was reported to have suffered bouts of depression afterwards due to the betrayal and humiliation, she had felt during the scene.
To all the people that love this film- you're watching a 19-year-old get raped by a 48yr old man. The director planned her attack. I feel sick. Jessica Chastain tweeted after  Bertolucci's confession.
Yes it Happens: When Women come to Talk, Other Women Stand Against Them
In January 2018, the French actress "Catherine Deneuve" signed a letter alongside other 100 French women, including high-profile writers, artists and academics, in which they criticized the #MeToo movement and warned about a new "puritanism" sparked by recent sexual harassment allegations.
"Sexual violence is not intensified flirting they wrote." One means treating the other as your equal, respecting their desires, whatever they may be. The other is treating them as an object at your disposal, paying no attention to their own desires, or their consent."
In response to the letter, Some French Cartoonists and most of them were men, made a cartoons mocking the letter's language, the signatories, especially Catherine Deneuve.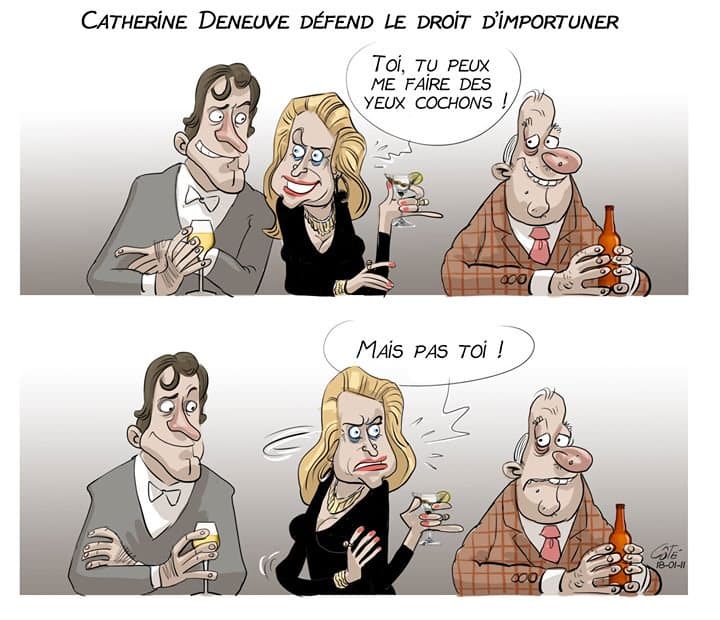 As well, Sandra Muller, founder of the #BalanceTonPorc ("squeal on your pig") movement, the French equivalent of #MeToo,  denounced letter, and described it as "buzz for the sake of buzz" and criticized the signatories, saying "they are just going to sap the morale of the numerous victims who try to have a bit of courage."
After the blackish from many of #Metoo Supporters, Deneuve was forced to release another letter, to apologize to sex assault victims, but no for the language of the letter and the accusation of #MeToo.
Let's be honest with ourselves, the allegations may end up with nothing, because male privilege is deeply entrenched, but certainly there's something has changed. Now on, women will speak strongly and loudly. Will this change the reality of Hollywood? Maybe.